Standard II
Standard II: Tall in the Gleisfeld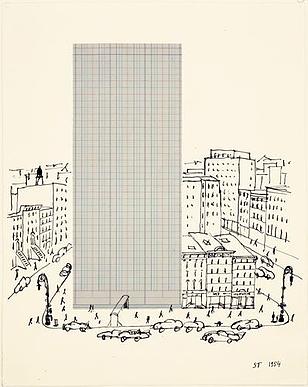 Graph Paper Architecture by Saul Steinberg, 1954
Tall in the Gleisfeld

We will continue to work with the new city spaces emerging along Zurich's Gleisfeld. Last semester's Atlas and the projects that emerged from it have shown how profoundly this development from within could change the city, bringing forests, piers, sports, nature reserves, flood protection, real estate; walkers and cyclists, small happenings and mass gatherings.
So much can happen inside the Gleisfeld. But it is within its edges that this potential can connect back to the fabric of the city and create a new reality. The Atlas and projects have identified and described many spaces and places. They have also reflected a powerful critique of the major forces of development at work today and proposed powerful alternatives.
We will develop the present themes of landscape and public space in precise architectural terms. Tall buildings are ever-present in this changing landscape and may well become standard. We shall continue our exploration of the standard in architectural production by designing one such tall building, as an independent object or as part of an ensemble. First we will examine the type in the story of architecture through an Atlas of Tall Buildings.
The growth of tall buildings over the last century has been closely matched by the radical transformation of construction from a matter of substance to a matter of layers. However, the mythology of architecture's tectonic power remains firmly engrained in the architectural imagination. Truth to material was one Modernism's great radical calls — a call that reaffirmed architecture's engagement in a physically and ethically honest world. But that world has changed technically and politically to such an extent that a new kind of construction now dominates, which eschews the pure ambitions of Modernism and ancient architecture. But this is not about mourning a loss of innocence, but rather to positively explore the potentials of layered complexity.
Such construction can lead to a new spatial and experiential paradigm in architecture. What might its standards be? You will be invited to design them, standing tall in the Gleisfeld.
Stage set of Tativille in Playtime by Jacques Tati, 1967
Tativille in Playtime by Jacques Tati, 1967
Seagram Building by Mies van der Rohe in New York, 1958. Photo by Ezra Stoller
Seagram Building by Mies van der Rohe in New York, 1958. Photo by Ezra Stoller
Seagram Building by Mies van der Rohe in New York, 1958. Photo by Ezra Stoller
Corner Solutions by Mies van der Rohe
Axonometry of The Economist Building by Alison and Peter Smithson in London, 1960-64
The Economist Building by Alison and Peter Smithson in London, 1960-64
Glass Skyscraper, Elevation Study by Mies Van der Rohe, 1922
Lake Shore Drive Apartments under construction, Mies van der Rohe in Chicago, 1950
Glass Skyscraper, Elevation Study by Mies Van der Rohe, 1922
John Hancock under construction, SOM in Chicago, 1967-78. Photograph by Ezra Stoller
Primetower by Gigon Guyer in Zurich, 2011. Photograph by Walter Mair
Primetower by Gigon Guyer in Zurich, 2011. Photograph by Walter Mair
Primetower by Gigon Guyer in Zurich, 2011. Photograph by Walter Mair
Hardau-Hochhäuser by Max Peter Kollbrunner in Zurich, 1976-78
Hardau-Hochhäuser by Max Peter Kollbrunner in Zurich, 1976-78
Hardau-Hochhäuser by Max Peter Kollbrunner in Zurich, 1976-78. Photograph by Walter Mair
Gleisfeld Zurich 2011. Photograph by Walter Mair
SBB Hauptwerkstätte
SBB Hauptwerkstätte. Photograph by Carmen Kempf and Jökull Jonsson
SBB Hauptwerkstätte
SBB Hauptwerkstätte. Photograph by Carmen Kempf and Jökull Jonsson
SBB Hauptwerkstätte. Photograph by Carmen Kempf and Jökull Jonsson
SBB Hauptwerkstätte. Photograph by Carmen Kempf and Jökull Jonsson
Zürich Gleisfeld. Photograph by Nemanja Zimonjic