Pachacamac
Pachacámac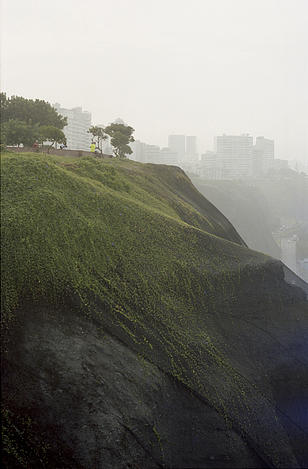 The Cliffs of Lima. Photograph Jens Knöpfel
The archaeological site of Pachacámac is a most extraordinary constructed landscape. Situated on the outskirts of Lima, Pachacamac covers about 600 hectares of land. The pre-Columbian citadel made up of adobe and stone palaces was first settled around 200 AD and flourished for about 1300 years to become one of the biggest and most important archaeological complexes in Peru. The site is host to numerous layers of civilisation, overlapping each other at this important node of the Qhapaq Nan network of Inca trails, connecting the Pacific Ocean to the Andes. Thus, it represents the full transect of the Peruvian landscape, from the mountains to the coast.
While the northern two thirds of the site comprise unexcavated open land awaiting future studies, the monumental area is a significant archaeological site with active excavations and ongoing discoveries of artefacts and architectural remains. With the construction of the National Museum of Archaeology in situ, the government aims to restore its former grandeur by transforming the site into a new centrality embedded within the urban fabric of the city of Lima. Yet Pachacámac is still perceived as a void, a patch of open-desert inhabited by ruins, caught between the baffling growth of the capital, and the mouth of the Lurin river ̶ the last remaining agricultural valley of the region.
Its edges are constantly under the threat of encroachment by informal settlements, such as the Julio Cesar Tello neighbourhood, or land invasions as recent as May 2015.
Given the proximity to Lima and the inevitable spread of the city into the territory, we are compelled to ask how a culture can live with ruins, comprehending what they represent, without being suffocated by their monumental presence? In order to restore the balance between the urban, the natural, and the cultural heritage in the city of Lima, the focus of conservation must shift from the mere preservation of physical archaeological sites, which have lost their meaning and value for the inhabitants; towards revealing and making legible the ancient knowledge embedded in their built heritage and their relation to the territory. Pachacámac offers the possibility of a new kind of archaeological garden city.
The Pontifical Catholic University of Peru has identified such a potential and has invited Studio Tom Emerson to comprehensively examine the condition and to collaborate on the making of an Atlas and a full-scale construction in summer 2018, as a first contribution to a long-term research project on the spatial and territorial future of Lima as a city in balance with its natural and cultural landscape.
-
Lima, Peru 17–25 March 2018

Site visit to Pachacámac. Photograph by Jens Knöpfel
To the coast. Photograph by Jens Knöpfel
Tanker by Pachacámac. Photograph by Jens Knöpfel
Islas Pachcámac. Photograph by Jens Knöpfel