An Architecture School for Zurich
An Architecture School for Zurich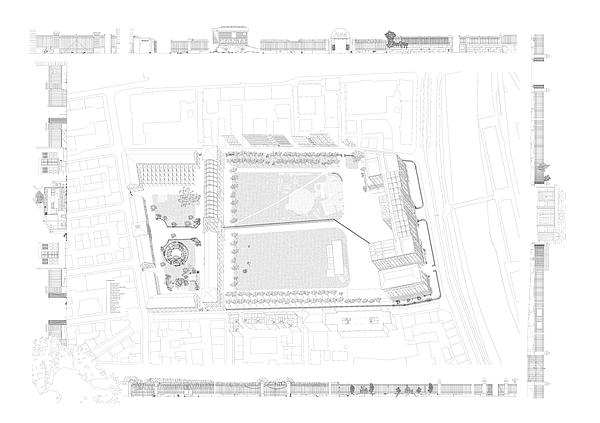 The Brief
Theme B proposes to relocate the department of architecture to Kasernenareal.
The Department of Architecture is currently located at ETH Hönggerberg Science City and ONA in Oerlikon, with the additional use of the small Gisel Studio within the city. At Hönggerberg, the HIL building is due for a major refurbishment and the small pavilion studios will be redeveloped in the near future to make space for new academic buildings.
The department will have to relocate for the refurbishment. Whether temporary or permanent, moving the department is a major technical and cultural shift calling into question the fundamental purpose and values of an architectural education.
Returning the whole department to the city centre is the alternative that could extend its contribution to the social and creative life of the city. Kasernenareal offers far more space than is required for the teaching and research of the department, opening the possibility of extending the programme to include other public institutions associated with architecture and urbanism. An extended Architekturforum, exhibition hall, publisher, bookshop and more could be anchored by the department and bring together architectural discourse with the everyday life of the city.
The site covers approximately 63,000 square metres of ground. The existing buildings comprise of 35,000 to 40,000 square metres of internal space. The Department of Architecture requires around 21,000 square metres.
Kasernenareal is a listed historic monument. Any intervention, whether by re-use, restoration, extension, or partial or complete replacement will bring forward critical issues about history and heritage. While each student is free to develop their own architectural and urban strategy, an understanding of the legal and cultural consequences of development must be clear.
Projects may consider the entire site and all the buildings and open space within it. However, proposals may also focus on the architectural potential of a single building within the Kasernenareal (or ensemble of buildings) without necessarily alternating the architecture or use of the whole. For example, the police building at the eastern end of the site could be large enough to accommodate the programme.


The programme can be downloaded from our server at
www.emerson.arch.ethz.ch/resources
Please click on FS16 - Diploma - Kaserne