A Town Tormented by the Sea
A Town Tormented by the Sea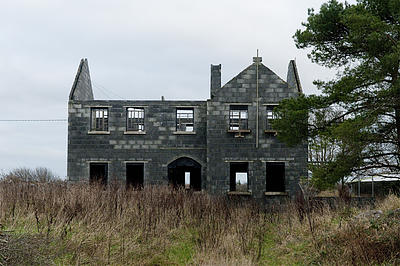 The sublime landscape around Galway Bay on the west coast of Ireland is scarred by millennia of Atlantic erosion and centuries of human exploitation. Cliffs, rocky crenellations, canals to nowhere, bog pits, towering ruins form a strangely mystical landscape. Ireland is littered with structures abandoned as catastrophe led to mass migration, Galway leading the exodus to America.
More recently the Celtic Tiger became famous as a modern economic miracle from 1995 until its sudden crash in 2008. Seemingly invincible, this new economic powerhouse, propelled by construction, produced developments everywhere from inner city regeneration to thousands of new stucco-ed neo-classical houses sprinkled over the countryside.
Today the tiger is dead and ghost estates of recently finished or incomplete villas stand silently with more in common with the ancient ruins on this wild landscape than their promised suburban idyll. Can we imagine another future for this landscape without leaving it behind or saturating it with the promise of growth and regeneration? We will explore the potential of Galway's natural and working landscape and its infrastructure. Working with the cunning of the bricoleur we shall look for small adjustments, architectural strategies which accept absence and emptiness as a critical alternative to regeneration through fullness.


We will travel to Galway to survey the land and prepare an Atlas from which we will explore a new reality (500CHF - 600CHF).


I know a town tormented by the sea
And there time goes slow
That the people see it flow
And watch it drowsily
And growing older, hour by hour, they say.
"Please God to-morrow!
Then we will work and play"
And their tall houses crumble away.
This town is eaten through with memory
Of pride and thick Spanish gold and wine
And of the great come and go...
Mary Devenport O'Neil,1929